Mule Days Celebration
Event Navigation
Mule Days is Celebrating 50 years!



Call Mule Days Office directly for onsite camping and all event tickets (760) 872-4263.
2019 marks the 50th anniversary of this one of a kind celebration of the American Mule!  Bishop Mule Days Celebration is tough to explain if you've never attended…it's part serious competition, part wild-west show and ALL fun for everyone!  This year's event will feature exciting arena shows, country western concerts, BBQ's and of course the Main Street Parade.  It's free to stop by the Tri-County Fairgrounds to browse the dozens of terrific vendors and check out the displays.  On-site camping is available.

A Snippet From True West Magazine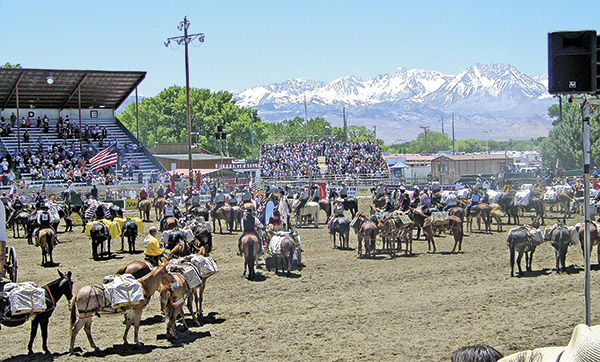 At the top of California's Owens Valley north of Lone Pine and south of Mammoth Lakes, Bishop is in the heart of California's historic Eastern Sierra Nevada cattle country. Founded in 1862, a year after pioneer rancher Samuel Bishop drove his herd of cattle into the area to help feed miners in Aurora, Bishop has been a thriving center of livestock, cowboy and mining culture ever since. Today, Bishop celebrates its Western heritage throughout the year, but is best-known worldwide for its Mule Days Celebration held every Memorial Day Weekend.